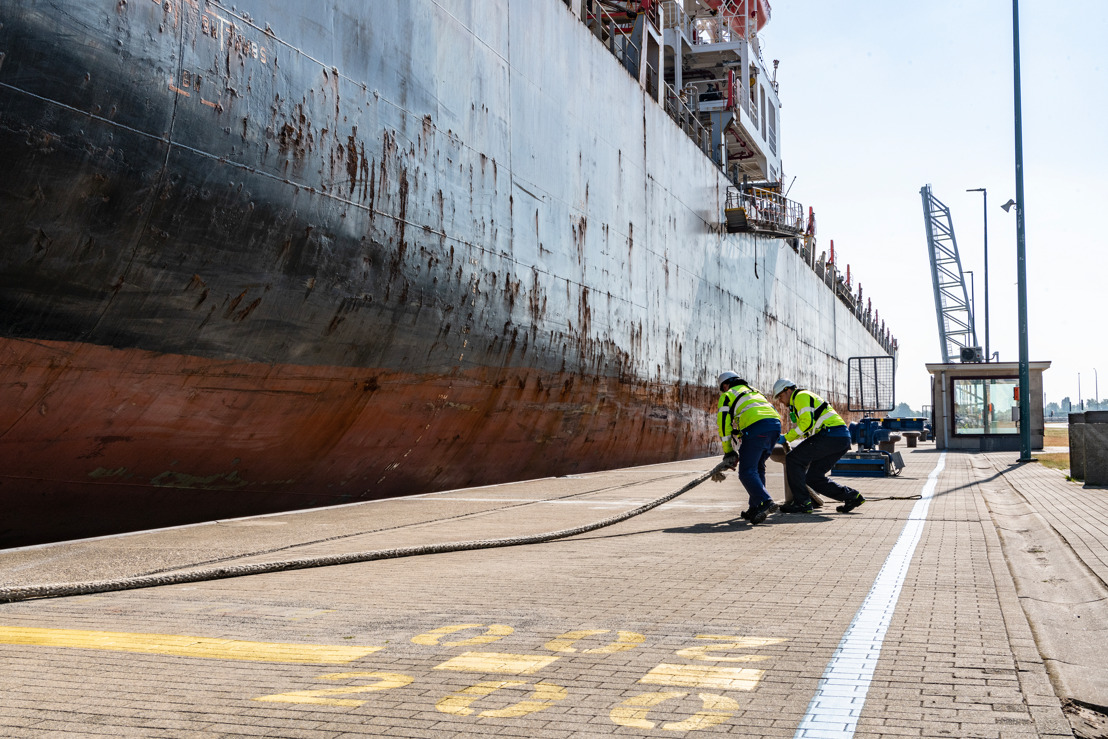 Continued economic instability impacts Port of Antwerp-Bruges' throughput figures
Market share of containers on the rise
After nine months, the total throughput of Port of Antwerp-Bruges was 204.4 million tonnes, a drop of 6% compared to the same period last year. The still unstable geopolitical and economic conditions are negatively impacting demand for container traffic around the world, while the picture is still mixed for other cargo flows. Thanks to the strong international position of our unified port, for which sustainable growth remains the priority, the market share of the container segment is growing compared to the other ports in the Hamburg - Le Havre range.
The Eurozone economy is under pressure from interest rates, which have risen sharply. Despite the drop in energy prices, the global economic situation also remains volatile and future indicators point to a continued economic downturn. As a result of this uncertain economic climate, containerised trade flows are falling around the world. For Port of Antwerp-Bruges, this is reflected in a 6.5% drop in container throughput in terms of tonnage, and 6.8% in TEUs, compared to the same period in 2022. Despite the decline in container throughput, Port of Antwerp-Bruges' market share in the Hamburg - Le Havre range nevertheless grew by 1% point, to 30.6% in the first half of this year.
Conventional breakbulk is holding up relatively well despite the weak economic climate, with throughput volumes in line with the pre-covid period. Compared to the same period in 2022, which was marked by a strong post-covid recovery, throughput is down 18.6%. Due to a drop in European steel production and lower demand, throughput of steel, the main commodity group within this segment, is down 17.6%.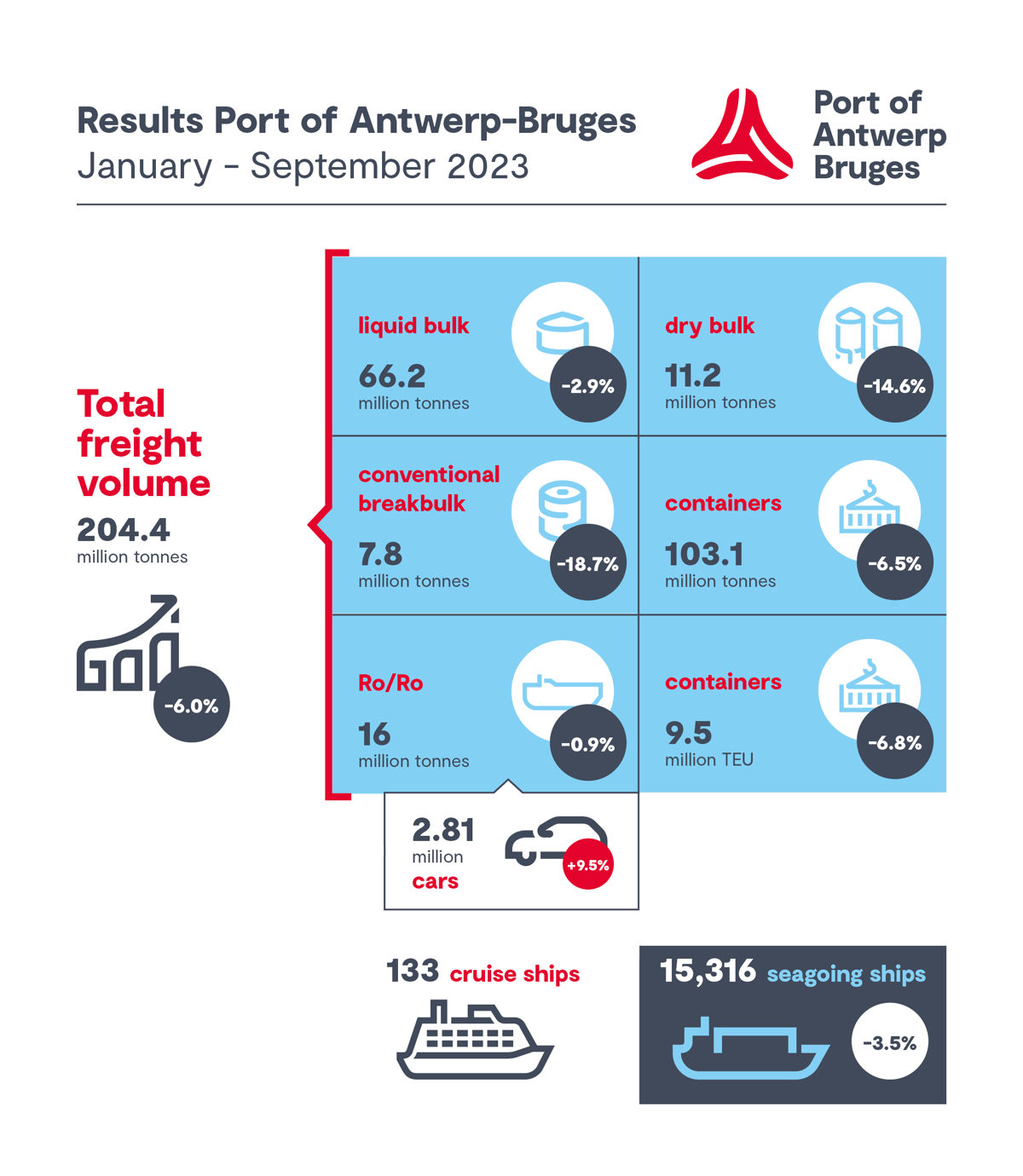 The dry bulk segment fell by 14.6%. Throughput of fertilizers, the largest product group within dry bulk, decreased by 24.2% after nine months, but has shown an upward trend since the summer which is expected to continue in the last quarter.
​Compared to the peak in 2022, coal throughput is now showing a decline (-36%). In contrast, throughput of sand and gravel grew by 7.4%, while volumes of iron ore, scrap and non-ferrous ores fell by 70%, 5% and 2%, respectively.
The liquid bulk segment saw a decline of 2.9%. Throughput of liquid fuels grew by 8.7% thanks to a strong growth of 42.7% in throughput of diesel compared to throughput of gasoline (-3.7%) and naphtha (-22.7%). Throughput of LNG (-6.7%) is also down. Although chemical exports are up 5.4%, a drop in imports (-18.3%) led to a decrease of total chemicals' throughput by 11.5%. ​ The competitiveness of the chemical sector in Europe is under pressure due to high energy, raw materials and labour costs combined with low global demand.
Roll-on/roll-off traffic remains unchanged (0.9%). Throughput of transport equipment grew by 8.9% thanks to growth in the throughput of new cars (+12.6%) to 2.67 million units. In addition to transport equipment, 7 million tons of unaccompanied cargo (excluding containers) was shipped on RoRo vessels (-1.4%). The portion of this cargo related to Ireland grew by 18.5%, while traffic to and from the UK fell (-3.8%).
In the first 9 months of 2023, Zeebrugge welcomed 133 cruise ships and 351,000 passengers. With these figures, it promises to be a record year, as the autumn and winter months are traditionally busier cruise months than the summer season.
In the first nine months, 15,316 seagoing vessels called at Port of Antwerp-Bruges, which is a decrease by 3.5%. The total gross tonnage of these vessels grew by 4.4% to 496.3 million GT.
On an annual basis, seagoing and inland vessels make over 300,000 movements in the port. These are ships arriving, departing, and moving within the port, or just passing through. Thanks to an extensive network of radars and cameras, Port of Antwerp-Bruges can continuously monitor these ship movements, thereby closely monitoring shipping and controlling the waterways and berths efficiently and safely.
Future-proof world port on the path to climate neutrality
To ensure Port of Antwerp-Bruges maintains its position as a world port, it must be possible for even the very largest container ships to continue calling at the port in the future. That means the draught upon arrival needs to be 16 metres. In October, the MSC Tessa broke a draught record at Deurganck Dock. The increase in the draught considerably increases the loading capacity of the ships.
The port is also taking the lead with an ambitious climate plan, with the aim of being climate neutral by 2050. In addition to greening its own fleet, Port of Antwerp-Bruges is working with companies in the sector on a wide range of solutions and projects which are crucial in achieving climate neutrality, such as hydrogen imports and CCUS (Carbon Capture, Usage & Storage), or ​ CO2 capture and transport, for which the Fluxys C-Grid joint venture was launched in September.
Jacques Vandermeiren, CEO Port of Antwerp-Bruges: "The continued economic and geopolitical concerns have been visible in the figures for several quarters now. The competitiveness of European industry is under pressure due to high energy, raw materials and labour costs combined with low global demand. The indicators do not yet show any improvement for the near future, and container throughput will still be impacted in the 4th quarter by cancelled voyages from the Far East. Despite the fact that our throughput is falling less than the average in the Hamburg-Le Havre range and we are gaining market share, we will have to face the fact that 2023 will not be a top year."
Annick De Ridder, Vice-Mayor of the City of Antwerp and President of the board of directors of Port of Antwerp-Bruges: "Our port is the economic engine of Flanders. That engine has held up well despite a difficult economic climate thanks to the entire port community who always gives its best. As a result, Port of Antwerp-Bruges' market share rose even in the Hamburg - Le Havre Range. The recently broken depth record is important for future growth and proves that, as the first port of call, we are accessible to the very largest vessels in circulation."
Dirk De fauw, Mayor of the city of Bruges and Vice President of Port of Antwerp-Bruges: "The economy, and by extension ports, are confronted with disappointing results around the world. But I am confident that the two complementary platforms will allow us to demonstrate our resilience and continue to reinforce our strong position in the international logistics chain. But a future-proof global port goes beyond traditional cargo handling. That's why we are playing a leading role in the transition to a circular economy, both within our own organisation, on the port platform and beyond, through an ambitious climate plan to be climate neutral by 2050."