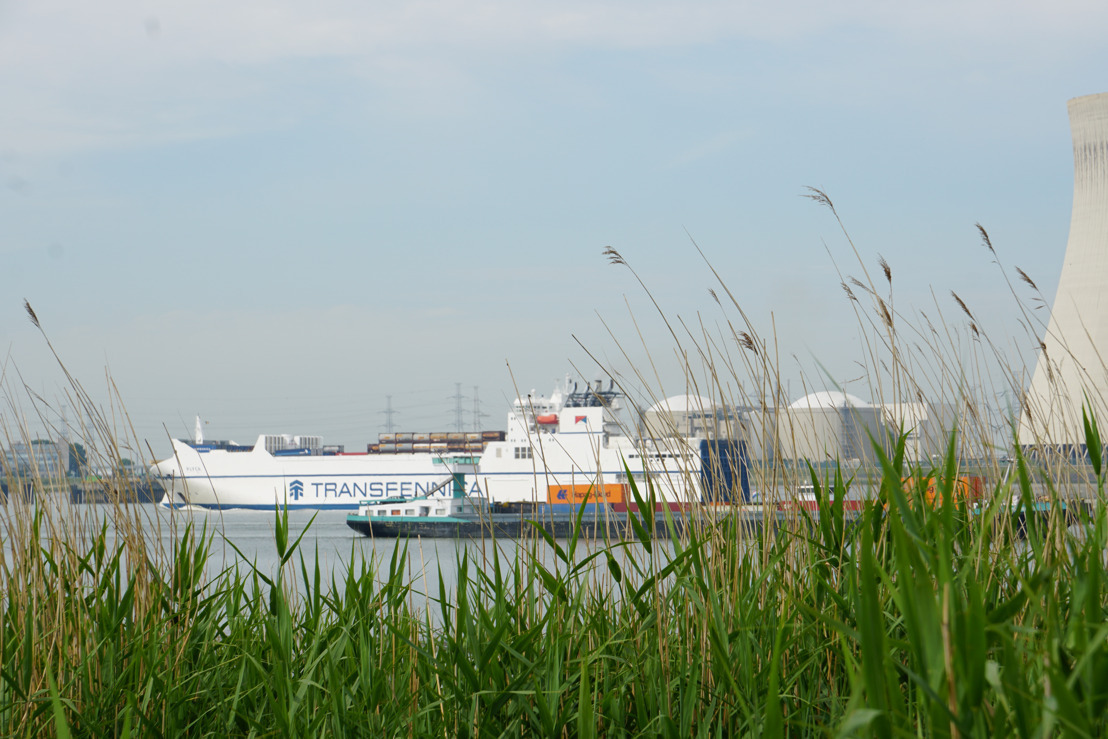 The Antwerp@C project takes a major next step towards halving CO2 footprint
Engineering studies have started, final investment decision expected by the end of 2022
Antwerp@C, an initiative of Air Liquide, BASF, Borealis, ExxonMobil, INEOS, TotalEnergies, Fluxys and the Port of Antwerp has the ambition to support industries' efforts towards a 50% CO2 emissions' reduction within the Port of Antwerp, Belgium, by 2030 through the creation of a common CO2 infrastructure. With the start of engineering studies, the project has now reached a new milestone to achieve more sustainable, lower-carbon operations around the Port of Antwerp. The seven leading chemical and energy companies aim to make a significant contribution towards the climate objectives of Belgium and the EU. The project aims to collect and export CO2 for sequestration in offshore capacities in the coming years and at reasonable costs or to make it available for potential future reuse. After completion of the engineering studies, a final investment decision for the first phase is anticipated in late 2022.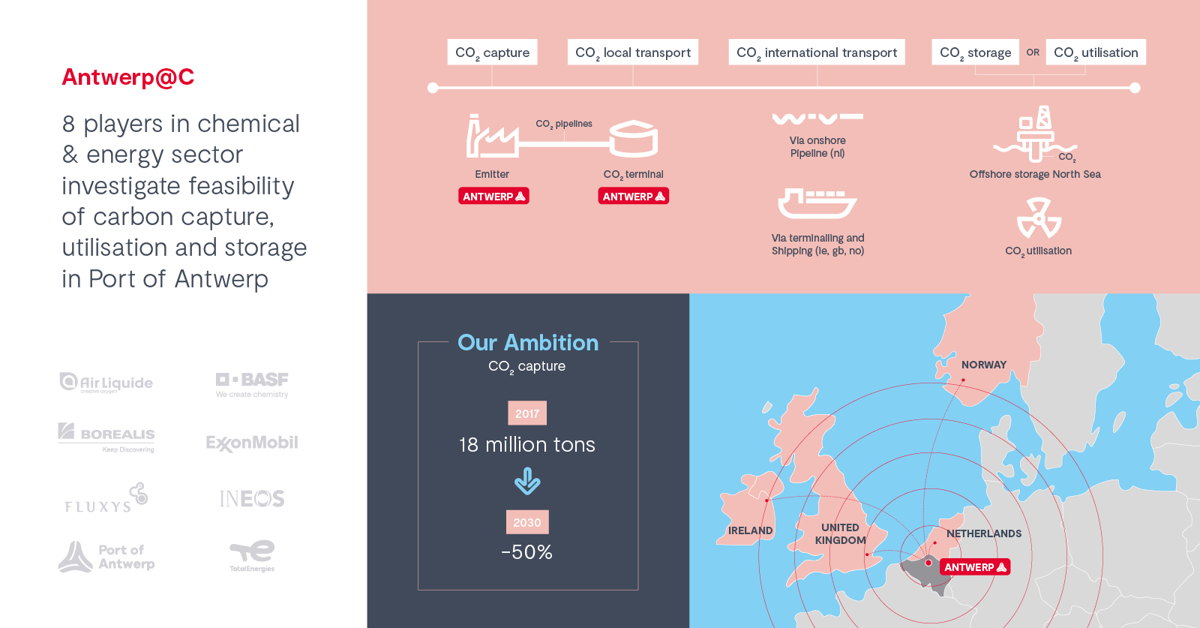 Start of Engineering studies (FEED phase)
After carrying out a feasibility study in 2021, Antwerp@C has now taken the decision to move on to the next phase and start engineering studies. These will further investigate the construction of a central "backbone" throughout the port of Antwerp along the industrial zones on both the Right and Left banks of the river Scheldt. Also part of the engineering studies is a shared CO2 liquefaction unit with interim storage and marine loading facilities for cross-border shipping. These studies are partially funded by a Connecting Europe Facility (CEF) grant, which was awarded in October 2020, by subsidies from the Flemish government for the feasibility-phase and by contributions of all consortium participants. After the engineering studies have been finalized, a final investment decision for the first phase is anticipated in late 2022.
In the meantime, Fluxys, Air Liquide and Pipelink (a subsidiary of Port of Antwerp) have organised an 'Open Season' in order to map the initial demand for the CO2 infrastructure which is proposed to be built. The Open Season was an invitation towards all companies in the wider port area of Antwerp to make their interest known for CO2 transmission and/or CO2 terminalling infrastructure in Antwerp.The response gathered from the market will be considered in order to take a final investment decision.
The Port of Antwerp, a carbon capture pioneer
Port of Antwerp is home to the largest integrated energy and chemicals cluster in Europe. This makes it the ideal location to set up new, cross-border collaboration projects for innovative CO2 reduction. To this end, Air Liquide, BASF, Borealis, ExxonMobil, INEOS, TotalEnergies, Fluxys and the Port of Antwerp joined forces at the end of 2019 under the name of Antwerp@C, to investigate the technical and economic feasibility of building a CO2 infrastructure to support future CCUS (Carbon Capture Utilization & Storage) applications. Carbon Capture & Storage (CCS) and eventually also Carbon Capture & Utilization (CCU) – i.e. reusing CO2 as a raw material for the chemical industry – are seen as important routes in the Port of Antwerp's transition to a carbon-neutral port. This innovative cross-border CCUS project would be among the first and world's largest multimodal open access CO2 export facilities.
Jacques Vandermeiren, CEO Port of Antwerp: "The time is now to make the transition towards a carbon neutral economy. Europe leads the way on a global stage. With Antwerp@C, the port of Antwerp has the key to realize an innovative cross-border CCUS-project, a first of a kind in its concept and scale. We are very keen to move on to this next phase of engineering studies as this project will contribute to the Flemish, Belgian and European climate goals and to the increased EU 2030 targets for emission reduction to at least 55%."
Wouter de Geest, chairman of Antwerp@C: "The important decision to start the engineering of such a complex project reconfirms the commitment of all partners towards their climate ambitions. The support of this commitment by different authorities was indispensable to take this decision and will remain indispensable during the further development of the project. All together, we are much stronger and can transform the industrial cluster in the port of Antwerp."
Pascal De Buck, CEO Fluxys: "The Antwerp@C project is part of the overall project approach of Fluxys to help build the needed decarbonization infrastructure across Belgium and towards the neighboring countries. Both for CO2 and for hydrogen we work with specific infrastructure proposals, currently in 5 and shortly in 6 important industrial clusters. Together with the market, we prepare the infrastructure step by step. Within the industrial clusters, between the clusters and also with connections towards the neighboring countries like in Antwerp. This way, our country is set to become a hub for the molecules for a carbon neutral future."
Media contact:
Frederik Pieters
+32 486 09 08 81

About Air Liquide
A world leader in gases, technologies and services for Industry and Health, Air Liquide is present in 78 countries with approximately 64,500 employees and serves more than 3.8 million customers and patients. Oxygen, nitrogen and hydrogen are essential small molecules for life, matter and energy. They embody Air Liquide's scientific territory and have been at the core of the company's activities since its creation in 1902.
Air Liquide's ambition is to be a leader in its industry, deliver long term performance and contribute to sustainability - with a strong commitment to climate change and energy transition at the heart of its strategy. The company's customer-centric transformation strategy aims at profitable, regular and responsible growth over the long term. It relies on operational excellence, selective investments, open innovation and a network organization implemented by the Group worldwide. Through the commitment and inventiveness of its people, Air Liquide leverages energy and environment transition, changes in healthcare and digitization, and delivers greater value to all its stakeholders.
Air Liquide's revenue amounted to more than 20 billion euros in 2020. Air Liquide is listed on the Euronext Paris stock exchange (compartment A) and belongs to the CAC 40, EURO STOXX 50 and FTSE4Good indexes.
About BASF
At BASF, we create chemistry for a sustainable future. We combine economic success with environmental protection and social responsibility. More than 110,000 employees in the BASF Group contribute to the success of our customers in nearly all sectors and almost every country in the world. Our portfolio is organized into six segments: Chemicals, Materials, Industrial Solutions, Surface Technologies, Nutrition & Care and Agricultural Solutions. BASF generated sales of €59 billion in 2020. BASF shares are traded on the stock exchange in Frankfurt (BAS) and as American Depositary Receipts (BASFY) in the U.S. Further information at www.basf.com
About Borealis
Borealis is one of the world's leading providers of advanced and circular polyolefin solutions and a European market leader in base chemicals, fertilizers and the mechanical recycling of plastics. We leverage our polymers expertise and decades of experience to offer value adding, innovative and circular material solutions for key industries. In re-inventing for more sustainable living, we build on our commitment to safety, our people and excellence as we accelerate the transformation to a circular economy and expand our geographical footprint.
With head offices in Vienna, Austria, Borealis employs 6,900 employees and operates in over 120 countries. In 2020, Borealis generated EUR 6.8 billion in sales revenue and a net profit of EUR 589 million. OMV, the Austria-based international oil and gas company, owns 75% of Borealis, while the remaining 25% is owned by a holding company of the Abu-Dhabi based Mubadala. We supply services and products to customers around the globe through Borealis and two important joint ventures: Borouge (with the Abu Dhabi National Oil Company, or ADNOC, based in UAE); and Baystar™ (with TotalEnergies, based in the US). ​ www.borealisgroup.com | www.borealiseverminds.com
About ExxonMobil
ExxonMobil, one of the largest publicly traded international energy companies, uses technology and innovation to help meet the world's growing energy needs. ExxonMobil holds an industry-leading inventory of resources, is one of the largest refiners and marketers of petroleum products, and its chemical company is one of the largest in the world.
ExxonMobil aims to achieve net-zero emissions from its operated assets by 2050 and is taking a comprehensive approach centered on developing detailed emission-reduction roadmaps for major operated assets. This ambition applies to Scope 1 and Scope 2 greenhouse gas emissions. It builds on the Company's 2030 emission-reduction plans, which include ongoing investments in lower-emission solutions, including carbon capture and storage, hydrogen and biofuels.
ExxonMobil has more than 30 years of experience capturing and permanently storing CO₂. It has an equity share of about one-fifth of the world's carbon capture and storage capacity at about 9 million metric tons per year, which is the equivalent of approximately 2 million passenger vehicles per year. The company is advancing plans for multiple new carbon capture and storage opportunities around the world to enable large-scale emission reductions, including major industrial areas in Houston and the Porthos project in the Netherlands.
To learn more, visit Carbon capture and storage | ExxonMobil.
About INEOS
A global manufacturer, INEOS operates 194 sites across 29 countries, generates $61 billion annually and employs over 26,000 people.
INEOS' business produces the raw materials and energy used for everyday life. Its products make an indispensable contribution to society by providing the most sustainable options for a wide range of societal needs. For example, preservation of food and clean water; construction of wind turbines, solar panels, and other renewable technologies; for construction of lighter and more fuel-efficient vehicles and aircraft; for medical devices and applications; for clothing and apparel; and for insulation and other industrial and home applications.
INEOS businesses have put in place the plans and actions needed to ensure that they lead the transition to a net zero economy by no later than 2050 and staying ahead of evolving regulations and legislation. As part of its greenhouse gas emission reduction strategy, there is widespread goal to move to a more circular economy, in which materials are re-used to their maximum extent.
The cradle of INEOS is in Antwerpen (Belgium). From one site in Zwijndrecht, INEOS now operates 7 other manufacturing sites in the Port of Antwerp (at Lillo (2), Zandvliet (2), Doel and Geel (2)) and 2 more in Wallonia (at Feluy and Jemeppe). With 3.050 employees on sites and in its R&D centers, the INEOS businesses O&P, Oxide, Styrolution, Phenol, Oligomers, Aromatics and INOVYN together are the second largest employer in the chemical industry in Belgium.
About TotalEnergies
TotalEnergies is a broad energy company that produces and markets energies on a global scale: oil and biofuels, natural gas and green gases, renewables and electricity. Our 105,000 employees are committed to energy that is ever more affordable, clean, reliable and accessible to as many people as possible. Active in more than 130 countries, TotalEnergies puts sustainable development in all its dimensions at the heart of its projects and operations to contribute to the well-being of people
About Fluxys
Headquartered in Belgium, Fluxys is a fully independent gas infrastructure group with 1,300 employees active in gas transmission & storage and liquefied natural gas terminalling. Through its associated companies across the world, Fluxys operates 12,000 kilometres of pipeline and liquefied natural gas terminals totalling a yearly regasification capacity of 29 billion cubic metres. ​ Among Fluxys' subsidiaries is Euronext listed Fluxys Belgium, owner and operator of the infrastructure for gas transmission & storage and liquefied natural gas terminalling in Belgium.
As a purpose-led company, Fluxys together with its stakeholders contributes to a better society by shaping a bright energy future. Building on the unique assets of gas infrastructure and its commercial and technical expertise, Fluxys is committed to transporting hydrogen, biomethane or any other carbon-neutral energy carrier as well as CO2, ​ accommodating the capture, usage and storage of the latter.
About Port Of Antwerp
Next to being Europe's second largest seaport the Poort of Antwerp is also home to Europe's largest integrated energy and chemical cluster: more than 300 line services to over 800 destinations ensure global connectivity. The Port of Antwerp annually handles around 240 million tonnes of international maritime freight, and is home to Europe's largest integrated chemical cluster. The Port of Antwerp accounts, directly and indirectly, for a total of around 143.000 jobs and more than €20 billion added value. ​
True to its mission 'a home port vital for a sustainable future', Antwerp Port Authority aims to flexibly respond to a rapidly evolving maritime market, allowing the port to continue playing its role as a leading world port. The emphasis in this respect is on cooperation, adaptability, a strong focus on innovation and digitisation, and on sustainable added value, as well as on responsibility towards society.
Antwerp Port Authority is a limited liability company of public law, with the City of Antwerp as sole shareholder. It employs over 1.600 people. Port alderman Annick De Ridder is chairman of the Board of Directors and Jacques Vandermeiren is CEO and President of the Executive Committee, which is responsible for the day-to-day management.