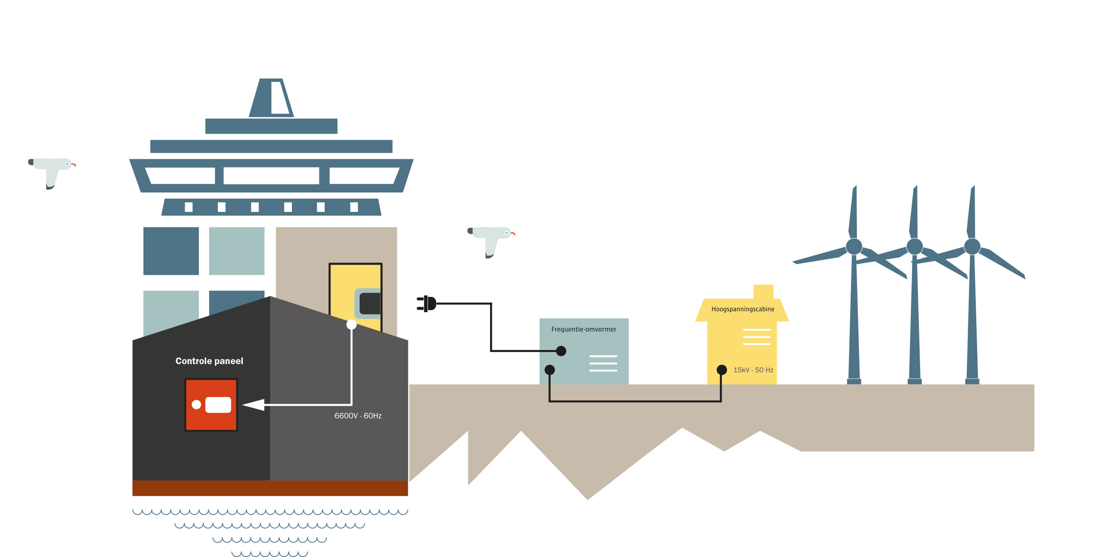 Ports moving together to reduce ship emissions at berth
Shore power for greening of ports
Container ships moored at the port generate a lot of emissions, mainly of nitrogen oxides. Today, shore power is the only technology available for reducing marine emissions from container vessels and contributing to better local air quality and less environmental noise. According to the Flanders Environment Agency's emission inventory, almost 19% of the NOx emissions at the port originate from moored ships.
Shore power at the port of Antwerp
Today, there are already 84 shore power connections at lay-by berths for inland navigation craft at the port of Antwerp. Port of Antwerp also wants shore power for container vessels at the port. In recent years, there has been an investigation into which terminals at the port are the most suitable to be equipped with shore power. On this basis, discussions were started with container terminals, the shipping industry, technology companies and electricity companies. However, despite the many efforts, no concrete shore power installations for container ships have been rolled out so far. The implementation of shore power is a complex affair with several hurdles:
Uncertainty about future (European) policy on whether or not to make shore power mandatory. An international policy is needed to ensure a level playing field between ports.

Unprofitable business cases owing to:

Major infrastructure investments that are unachievable at this stage of the technology without public support.

Differences in valuation between marine fuels and electricity for shore power. This makes marine fuels much cheaper and it is therefore cheaper to use an auxiliary engine to generate power.

No existing solution for the needs of our terminals: 100% flexible 'sockets' that do not interfere with operations.

A limited number of container ships are currently equipped with shore power facilities.
Shore power for container ships by 2028
For the above reasons, there are currently no terminals in Europe with working shore power installations for deep-sea container shipping. During the World Ports Conference on 21 June 2021, the ports of Antwerp, Bremen, Hamburg, Haropa and Rotterdam announced their joint commitment to provide shore power for the largest container vessels by 2028. To show their commitment and make a clear statement, these ports signed a Memorandum of Understanding (MoU). In this way, the neighbouring ports are showing that they will do their utmost to create the necessary conditions and a level playing field to facilitate the implementation of shore power for their customers.
In addition, the ports are jointly advocating a clear regulatory framework for the use of shore power or an equivalent alternative. The ports are also asking for an equivalent valuation of fuels – and in particular the equalisation of certain levies and taxes on electricity for shore power use with those on marine fuels – and sufficient availability of public funds to implement these projects. In order to implement these projects, the ports are reaching out to the various policy levels, the shipping industry and the terminal operators.