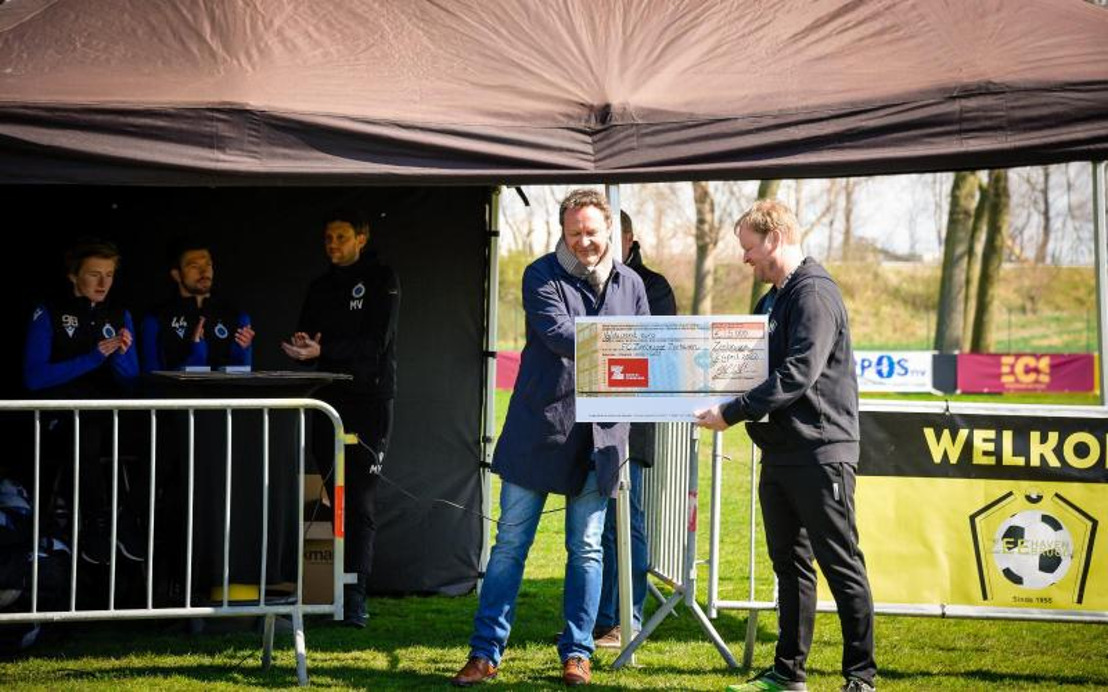 Port of Zeebrugge supports FC Zeehaven Zeebrugge
Rooting "zij aan zij" (side by side) for the local soccer team
Today FC Zeehaven Zeebrugge and Port of Zeebrugge toasted to the renewed sponsorship of the local soccer club. To celebrate the cooperation on a large scale, a special clinic (i.e. training) was organized for the youngest fanatics under the supervision of top players of KV Club-Brugge Brandon Mechele and Cisse Sandra. After the match, CEO of the Port of Zeebrugge handed over the cheque as a sign of pride in the dedication and commitment of the sports club to young and old.  
"Zij aan zij" (Side by side) on the sidelines  
The idea of a clinic for the U6 to U11 came about as a result of the new communication campaign "zij aan zij" (side by side), with which the port authority of Zeebrugge wants to reach a hand to the people living in the vicinity and visitors to the port area. The well-being of the residents and the environment plays a crucial role for the prosperity and activities of the port. Not only is Port of Zeebrugge an important economic driver for the region, but it also brings the environment and the (international) economy closer together. Through various initiatives, the port authority hopes to narrow the gap between both pillars and promote everyone's interests.  
Wim Baert, Board Director of FC Zeehaven Zeebrugge: "Football should be for everyone, including children and young people who do not have it easy financially. Therefore, the renewed sponsorship of the port authority of Zeebrugge certainly offers new opportunities to promote soccer "side by side" for all fans. As a board, we have only one rule: to win every week. Either by giving children and young people the opportunity to learn from their mistakes or by (literally) bringing home the victory. We consider the financial support of Port of Zeebrugge a victory as well, a triumph for the development and joy of our youngest generations, on and off the field."
Tom Hautekiet, CEO Port of Zeebrugge: "With the new support for FC Zeebrugge Zeehaven, the port authority wants to thank the local soccer club with pride for their hard work and commitment. Sport and games are important factors for a healthy mind in a healthy body, a principle we can only complement. Giving joy to the youngest soccer fans shows the perseverance and enthusiasm of the board and all employees. Through our campaign "zij aan zij supporteren" (rooting side by side), we hope to strengthen (even more) the bond with the residents and the environment and together encourage our smallest players to give their best on the field."