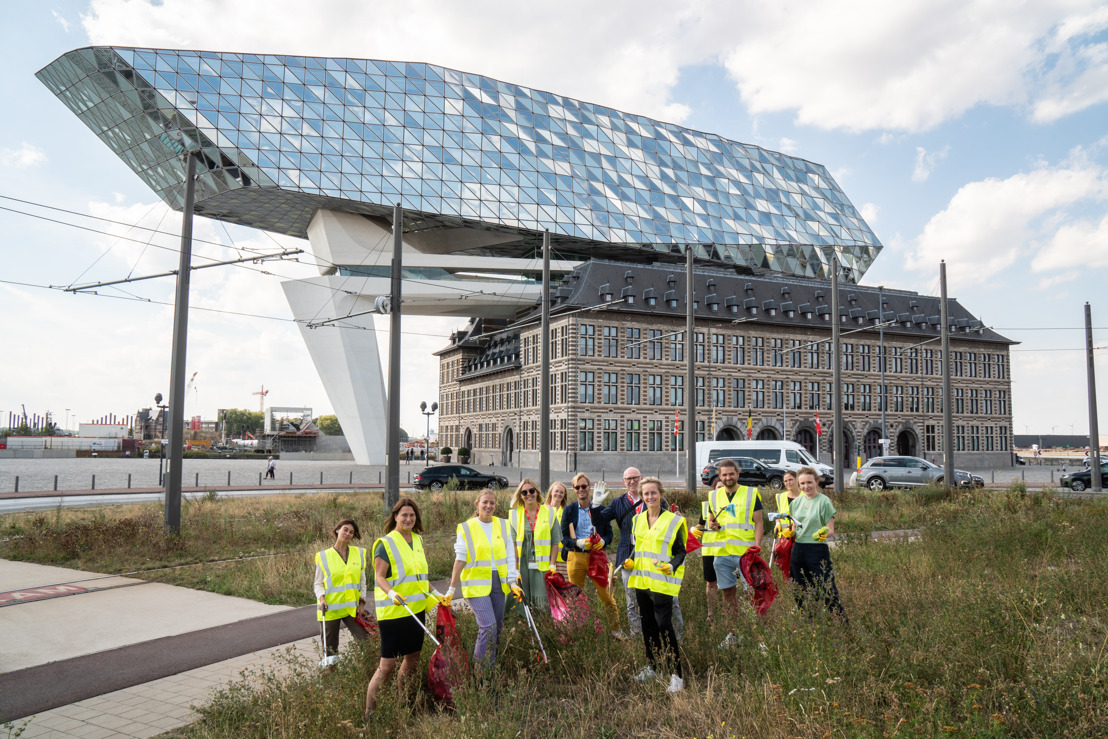 Port of Antwerp-Bruges launches #PortCleanUpChallenge2022 to tackle litter
On Monday 5 September the #PortCleanUpChallenge2022 of the Port of Antwerp-Bruges was launched, with an action by chairman Annick De Ridder, Jean-Paul Meus and some Port Authority employees. Chairman Annick De Ridder cleans up together with PSA on 13 September. On 20 September, a cleanup campaign will be held with Vice Chair Dirk De fauw near Zelzatebrug at the port of Zeebrugge ​
Throughout the month of September, port companies will take on the challenge of cleaning up as much litter as possible at the port
Jean-Paul '10 minutes a day' Meus is taking on the sponsorship of the Challenge
The company that shares the most fun and original team photo, taken during their cleanup campaign, will receive an artwork from the Antwerp art collective 'Trash Kids Club'
Once again this year, Port of Antwerp-Bruges is highlighting litter. After the great success of the 2021 Port Cleanup campaign, the Port Authority is now opting for a #PortCleanUpChallenge2022. Companies active at the port will be challenged, just like the Port of Antwerp-Bruges' own employees, to clean up as much litter as possible at the port. The starting gun was fired today during a cleanup campaign at the port. After the cleanup month, an artwork made from roadside litter will be awarded. The sponsorship of the Challenge is being taken on by Jean-Paul '10 minutes a day' Meus.
Get rid of litter!
Litter does not belong in the Scheldt, in nature or at the port. In recent years, the Port Authority has been working with companies at the port to raise awareness of preventing litter and floating debris, and of cleanup efforts and innovations to address this problem. Port of Antwerp-Bruges itself is also taking a great deal of action to tackle the problem: every day, for example, port tornadoes clean up litter at the port of Antwerp, while Patje Plastic and waste collection boat Condor are doing away with floating debris and drones are being deployed to detect floating debris. In Zeebrugge, the green workers from 360° Groen are helping to clean up mess in the port area. Along with Mooimakers, Port of Antwerp-Bruges launched an awareness campaign aimed at truckers in 2021, a Cleanliness Index was developed, and drones were deployed in the battle against floating debris on the Scheldt and in the docks, etc.
In 2021, (the former) Port of Antwerp also organised a Port Cleanup campaign in collaboration with Mooimakers and Natuurpunt. No fewer than 1,200 people participated.
Vice Mayor for the port, urban development, spatial planning and patrimony, and President of Port of Antwerp-Bruges, Annick De Ridder: "Our port is the economic engine of Flanders, providing no fewer than 164,000 jobs as well as the necessary passage. Precisely because a clean port is a pleasant port to work at, we are launching the #PortCleanUpChallenge2022. Armed with a litter picker, gloves, boots and rubbish bag, we will be going to war against litter today. It's a warm-hearted call-out to all the people and companies working at our port to do the same in the month of September ... and to keep the port clean afterwards as well. It is therefore our explicit ambition to be the very first world port to reconcile economy, people and environment in a sustainable way."
#PortCleanUpChallenge2022 ​
This year, Port of Antwerp-Bruges is challenging the entire port community from Antwerp to Zeebrugge, as well as its own employees, to set up as many campaigns as possible for clearing up litter at the port. Both maritime and non-maritime companies at the port can participate. The kick-off for this campaign will be given today by Chair Annick De Ridder and Jean-Paul Meus. On 20 September, Vice Chair Dirk De fauw will be getting to work near Zelzatebrug at the port of Zeebrugge.
CEO Jacques Vandermeiren: "The Port Authority attaches great importance to the battle against litter. Beyond September, we also implement policies throughout the year to keep public spaces at the port free of waste, from Antwerp to Zeebrugge. The port must be a clean environment to work in, and that's not just about the environment. This Port Cleanup Challenge will also help us to further strengthen the community feeling at the port, including between companies in Antwerp and Zeebrugge."
Participating port companies will communicate on LinkedIn about their campaign by using the tag #PortCleanupChallenge2022.
Vice President for Port of Antwerp-Bruges Dirk De fauw: "I am now challenging all the companies in Zeebrugge to help clean up the mess. I'm sure they will roll up their sleeves to take on this challenge and start making a solid contribution against litter." ​
Antwerp litter activist Jean-Paul Meus is taking on the sponsorship
Jean-Paul Meus is known in Antwerp as an activist against litter with his '10 minutes a day'. After having initiated numerous campaigns against litter, he is now throwing his weight behind the campaign organised by Port of Antwerp-Bruges.
Jean-Paul Meus: "I myself have been cleaning up for 10 minutes a day for more than 2,300 days in a row. Litter is everyone's battle. I'm very happy that our port is taking this seriously, so I'm happy to take on the sponsorship of the Challenge. 17 September is World Cleanup Day and that's when I'd like to get as many people as possible into cleaning up litter."
The Challenge also comes with a prize. The company that shared the most fun and original team photo of the campaign during the Cleanup Month will receive a trophy during the month of October.
The Antwerp-based 'Trash Kids Club' will provide the trophy
Artist collective 'Trash Kids' will provide this trophy for the winner. The 'Trash Kids' have long been known to be creative with Antwerp's litter. They will create an artwork from Antwerp roadside litter for the winner.
The Port Cleanup Challenge is being supported by 360° Groen, Mooimakers and Natuurpunt.