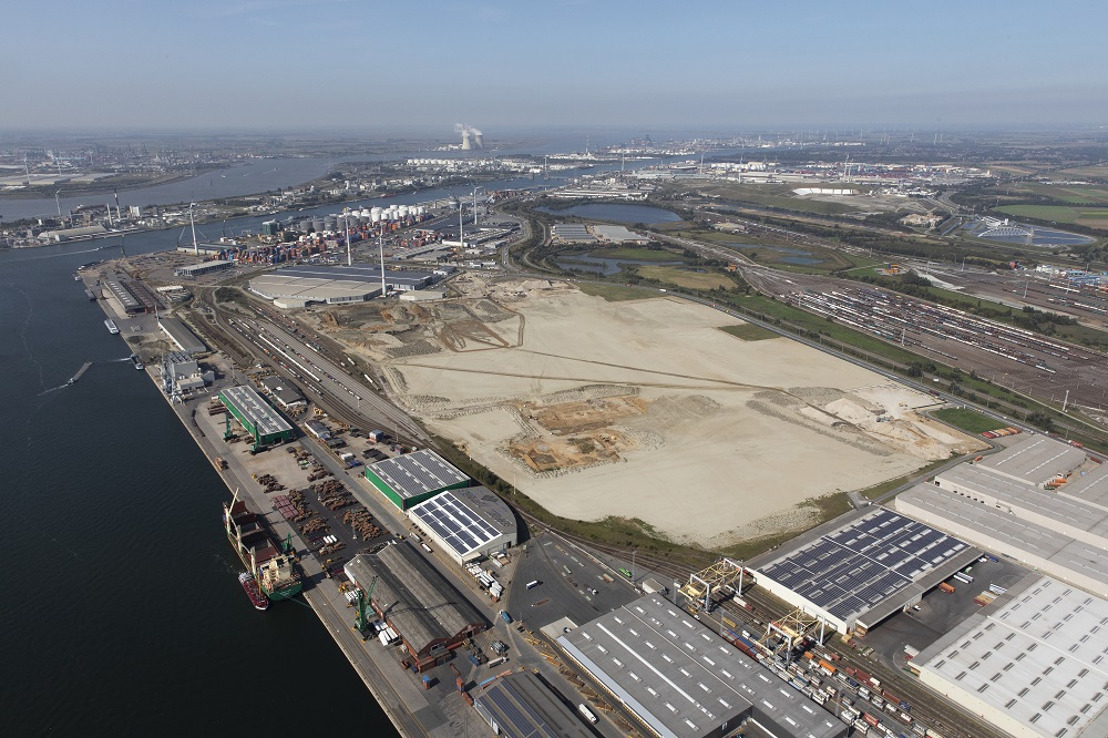 NextGen District takes shape with players in green hydrogen and circular water use
Hotspot for circular economy
Port of Antwerp-Bruges would like to support the transition to a climate-neutral society with NextGen District, a hotspot for the circular economy. The commitment of two new concessionaires, Plug and Ekopak, is another important milestone for this cluster in the heart of the Antwerp site. These pioneers' projects, a green hydrogen plant and a progressive water plant, make an essential contribution to circularity in the port.
Large-scale green hydrogen production plant
NASDAQ listed Plug has ambitions to become the world's largest producer of green hydrogen. The location near the largest chemical cluster in Europe combined with the ambition of Port of Antwerp-Bruges to become a major hydrogen hub for Europe were decisive factors when Plug chose NextGen District. The American hydrogen solutions provider has signed a concession agreement for the construction of a green hydrogen production plant. Through a combination of locally produced solar and wind energy and purchased green electricity, it will produce 12,500 tons of liquid and gaseous green hydrogen per year for the European market.
Andy Marsh, CEO of Plug: "Green hydrogen plays a vital role in the transition from the use of fossil fuels to green energy. In addition, the energy crisis in Europe has accelerated the demand for green hydrogen development projects. With this plant we aim to help Port of Antwerp-Bruges become a European hydrogen hub. As Europe struggles with the challenges of climate change and energy security, this plant will provide the necessary naturally generated, carbon-free hydrogen to local markets."
Circular water use
In addition to Plug, the Euronext Brussels listed Ekopak will also take up a spot in NextGen District. The Tielt-based water recycling company, in a joint-venture with water-link and the Flemish investment company PMV, will install a progressive water plant at the site, named project Waterkracht. This company will convert the wastewater from the inhabitants of Antwerp treated by Aquafin into the much higher quality level of sustainable cooling water that the companies in the port can reuse. At full capacity, the plant will produce up to 3,000m³/hr of sustainable cooling and process water so that minimum 20 billion litres of wastewater can be reused on an annual basis. Via a pipeline network, water-link distributes the circular cooling water so that all industrial companies on both the left and right bank can use it.
Ekopak also aims to process local rainwater and wastewater from NextGen District into sustainable process water, thereby encouraging fully circular water use. In addition to its core focus on wastewater reuse, Ekopak will also work to increase circularity by converting waste streams into steam production and providing compressed air and fire-fighting water.
"Circular water use is essential for the sustainable growth of a port. Our ambition is to reduce NextGen District's water footprint to an absolute minimum. Moreover, with this project Ekopak can make a significant contribution to improving the port's sustainability" said Pieter Loose, CEO of Ekopak.
The total investment value of these two new players amounts to 400 million euros and will generate around 60 new jobs. After applying for the necessary permits, the objective is to be operational by 2024-2025.
For more info: https://www.portofantwerpbruges.com/en/business/industry/nextgen-district
Jacques Vandermeiren, CEO Port of Antwerp-Bruges: "These new investors are a confirmation of the attractiveness of our port and NextGen District, both nationally and internationally. These firms and their projects are exactly what we have in mind when developing this circular zone. After all, green hydrogen and circular water use are the basic elements of the climate transition. I am convinced that these projects will ensure that other change-makers will follow. I thank the firms for their trust and all the staff for making this happen."
Annick De Ridder, Vice Mayor for the City of Antwerp and President of the Board of Directors of Port of Antwerp-Bruges: "We would like to be the first global port to reconcile the economy, man and the climate. These new players, and the investment and jobs that come with them, are great news for the sustainable growth of our port. In NextGen District, these pioneers will be given every opportunity to innovate and contribute to the strengthening, synergy and diversification of the port platform. With this cluster of circular companies at a prime logistical location, we can accelerate the transition to a climate-neutral society."
Jan Jambon, Minister-President of Flanders: "Hydrogen plays an important role in the energy transition and at the same time offers many economic and societal opportunities for Flanders. Due to the strategic location of our ports and the expertise of our companies, research centers and educational institutions, we have all the assets to become the hydrogen hub of Western Europe. An opportunity that we must not miss. Plug's choice for Antwerp is the result of the ​ strong relationship that I, the Flemish Government, Flanders Investment & Trade and the Port have built with the company. At the same time, it confirms the role that Flanders plays in renewable energy. I am therefore very pleased to welcome Plug in Flanders."