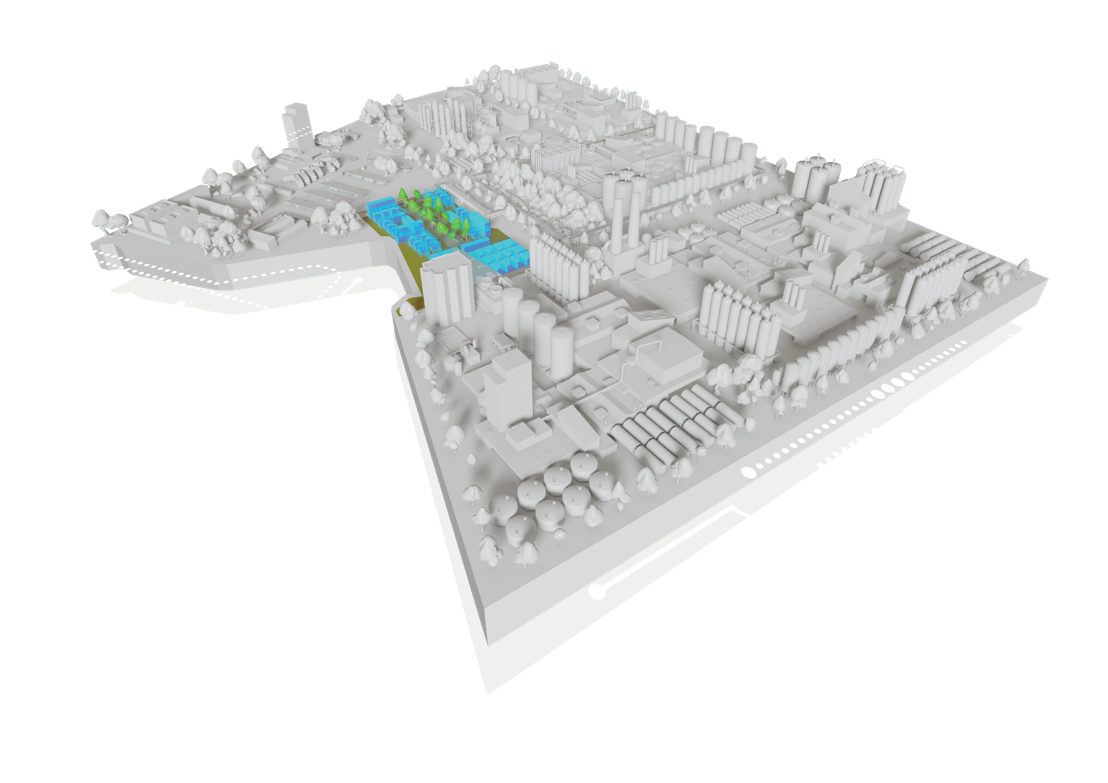 Innovation hub NextGen Demo ready to welcome circular pioneers
With the announcement of PureCycle's plastic recycling plant, the filling-in of the first part of NextGen District, the hotspot for circular economy at the heart of the Antwerp port site, has been completed and the first spade stroke will go into the ground before the end of the year. Today, Port of Antwerp-Bruges is launching a second tender procedure for the plots available within NextGen Demo. This innovation hub is part of NextGen District and is aimed at pioneers looking for space and support to test their projects before scaling them up to a commercial level. Thanks to the input and responses following the first call, in late 2021, the offer has now been further refined and tailored.
Innovation hub within NextGen District
Port of Antwerp-Bruges offers a site with a total area of 88 ha for NextGen District with the ambition to set up a hotspot for circular economy. NextGen Demo is a zone within this cluster in the heart of the Antwerp industry, where demonstrators can test new technologies and circular demo projects that have outgrown the lab on a larger scale and in an industrial environment before proceeding to commercialisation.
Global gamechangers
Meanwhile, the appeal of NextGen District has attracted global pioneers within the circular process and manufacturing industry, who are giving 'end-of-life products' a second or third life there. US-based Plug, for instance, is investing in a green hydrogen plant, Bolder Industries will recycle car tyres, Ekopak is committed to circular water use and, thanks to Triple Helix, polyurethane foam and PET dishes will be recycled into new raw materials. On top of that, PureCycle last week confirmed a large-scale investment in a plant that will recycle polypropylene (PP). ​ With these gamechangers, the filling in of the first part of NextGen District is now complete and construction of the facilities will start this year.
Synergies
For the filling-in of NextGen Demo, Port of Antwerp-Bruges is looking for candidates (start-ups and scale-ups, spin-off companies and pilot projects) active in sustainable and innovative chemical and energy technology. With a specific focus on technologies within four domains: Waste-to-X (chemicals/fuels), CCU (Carbon Capture & Utilisation), bio-based technologies and renewable energy storage and H2 technologies.
The industrial port network with top global players and diverse ecosystem will contribute to synergies between the players at NextGen Demo, NextGen District and the other port companies. In addition, the top logistics location, available peripheral infrastructure, tailor-made guidance in growing to a commercial level and possibility of financial support are additional reasons for candidates to come forward. Moreover, the concept and offer were further refined and tailored to the specific needs of the demonstrators based on responses to the first candidate call at the end of 2021.
Application procedure
Port of Antwerp-Bruges is therefore launching a second call for circular pioneers to submit their project proposals via the website by 31 March 2023 at the latest. The call applies both to applicants who can start a demonstration immediately, and to applicants who need limited preparation before proceeding to the demonstration phase. After evaluation of the written project proposals and an oral explanation by the candidates, negotiations and decision to award a concession or a preparation phase will follow, followed by the signing of the concession agreement or Letter of Intent. ​
For more info on the exact scope, conditions and technical specifications: NextGen Demo | Port of Antwerp-Bruges (portofantwerpbruges.com)
Jacques Vandermeiren, CEO Port of Antwerp-Bruges: "NextGen Demo is the place par excellence where new technology is incorporated into the fascinating ecosystem of a port and industry. Demonstrators are given the space here to grow and join a valuable network of fellow pioneers, partners and customers. ​ We have refined our offering so that we are more ready than ever to welcome pioneers who are up to the challenge. We therefore look forward to innovative project proposals that contribute to circularity in the port and by extension the transition to a climate-neutral society."
Annick De Ridder, port alderman of the City of Antwerp and chairman of the board of Port of Antwerp-Bruges: "This testing ground for technological and sustainable innovation will contribute to the strengthening, synergy and diversification of the port platform. Moreover, this is a top logistics location to support the transition in the Antwerp chemical cluster