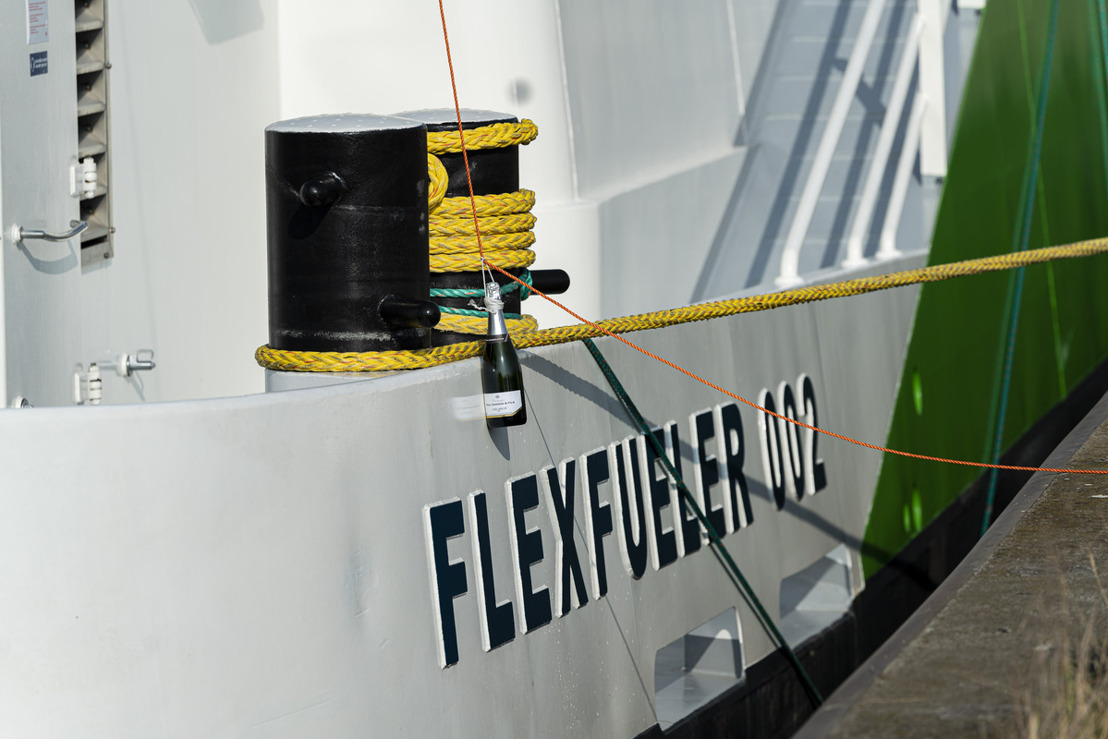 FlexFueler 002 makes LNG bunkering available throughout Port of Antwerp
New LNG bunker vessel from Fluxys and Titan LNG supports energy transition
Port of Antwerp, Fluxys, and Titan LNG have celebrated the christening of a new LNG bunker barge; the FlexFueler 002. Owned by gas infrastructure group, Fluxys and leading physical supplier of LNG, Titan LNG, the FlexFueler 002 makes LNG as a marine fuel widely available to vessels bunkering in the port.
The FlexFueler 002 operates from its base at quay 526/528 and supplies LNG throughout the port and Western Scheldt. It is the third vessel to join Titan LNG's expanding infrastructure in the Amsterdam-Rotterdam-Antwerp (ARA) region, operating in addition to the FlexFueler 001 and the Green Zeebrugge.
The demand for LNG is growing as its role in shipping's energy transition is increasingly recognised. LNG reduces SOx and particulate emissions to negligible amounts, NOx by approximately 85%, and achieves significant GHG reductions. It also creates a pathway to decarbonisation through the introduction of bio- and synthetic-LNG, which both use the same infrastructure and engine technology. Liquid biogas - from organic waste - and liquid synthetic methane - from green hydrogen and captured CO2 – are scalable solutions for the maritime sector, and the expanding LNG infrastructure in Port of Antwerp is fully future-proofed and able to supply carbon-neutral LNG.
Jacques Vandermeiren, CEO, Port of Antwerp commented: "As the fifth largest bunkering port in the world, we are committed to playing a pioneering role in the integration of low- and zero-carbon fuels to the bunker market. The arrival of the FlexFueler 002 marks an important landmark in the transition to a multi fuel port. LNG as a marine fuel is now available throughout the port, enabling us to further facilitate the energy transition of shipping in the port, as well as the region of Antwerp."
Port Alderman Annick De Ridder: "We are very pleased that the bunker company has decided to give the Flexfueler a permanent berth in the Port of Antwerp. This proves that we are taking steps in the right direction to further transform our port into a multi fuel port by 2025: a port where, in addition to traditional fuels, more sustainable alternative fuels such as LNG are also offered. In this way, in addition to being a successful port, we also remain a sustainable port and an inspiration for the entire maritime sector."
Pascal de Buck, CEO, Fluxys: "Working with the Port of Antwerp and Titan LNG, we are proud to provide an important logistical link enabling more shipowners to choose LNG as an alternative marine fuel. The new barge and our other LNG bunkering facilities in the port also have the advantage of being able to provide carbon-neutral LNG options with no additional investment required for shipowners."
Ronald van Selm, CTO, Titan LNG: "The FlexFueler 002 is the third bunker vessel to join Titan's fleet, providing LNG as a marine fuel across the ARA region. We expect to have the largest network of LNG bunkering vessels in Europe by 2025 and will continue to work with our partners, both in Europe and around the world, to ensure that shipowners are able to start the journey towards a zero-carbon future today."
The FlexFueler 002 provides flexible LNG bunkering, giving LNG fuelled vessels the option to bunker while loading or unloading cargo. It supports Port of Antwerp's commitment to developing a multi fuel port, as well as improving local air quality.
Notes to editors:
About Titan LNG
As a leading independent supplier of LNG, Titan LNG is the frontrunner in economic and clean (bio)LNG supply to the marine and industrial sector in Europe.
Titan LNG believes LNG is the best transport fuel and essential in the energy transition during the coming decades. In creating the infrastructure for further decarbonization via (bio)LNG and synthetic LNG, carbon neutral solutions can be achieved.
With headquarters in the Amsterdam-Rotterdam-Antwerp area, Titan LNG and its partners believe LNG should be easily accessible to all. Through building a global supply network, Titan LNG offers complete natural gas solutions: LNG bunkering, LNG transport and supply, LNG storage tank and vaporizer rental, including maintenance and service.
LNG distinguishes itself from oil-based fuels, as a cleaner, economical and safe fuel. It is abundantly available and has been used for over 50 years. With LNG becoming the fuel of choice for travel to Mars, Titan LNG believes the fuel will also enable clean transport on earth.
About Fluxys
Headquartered in Belgium, Fluxys is a fully independent gas infrastructure group with 1,200 employees active in gas transmission & storage and liquefied natural gas terminalling. Through its associated companies across Europe Fluxys operates 9,000 kilometers of pipeline and liquefied natural gas terminals totalling a yearly regasification capacity of 29 billion cubic meters. ​ Among Fluxys' subsidiaries is Euronext listed Fluxys Belgium, owner and operator of the infrastructure for gas transmission & storage and liquefied natural gas terminalling in Belgium.
As a purpose-led company Fluxys together with its stakeholders contributes to a better society by shaping a bright energy future. Building on the unique assets of gas infrastructure and its commercial and technical expertise, Fluxys is committed to transport hydrogen, biomethane or any other carbon-neutral energy carrier and to accommodate carbon capture and usage/storage chains.