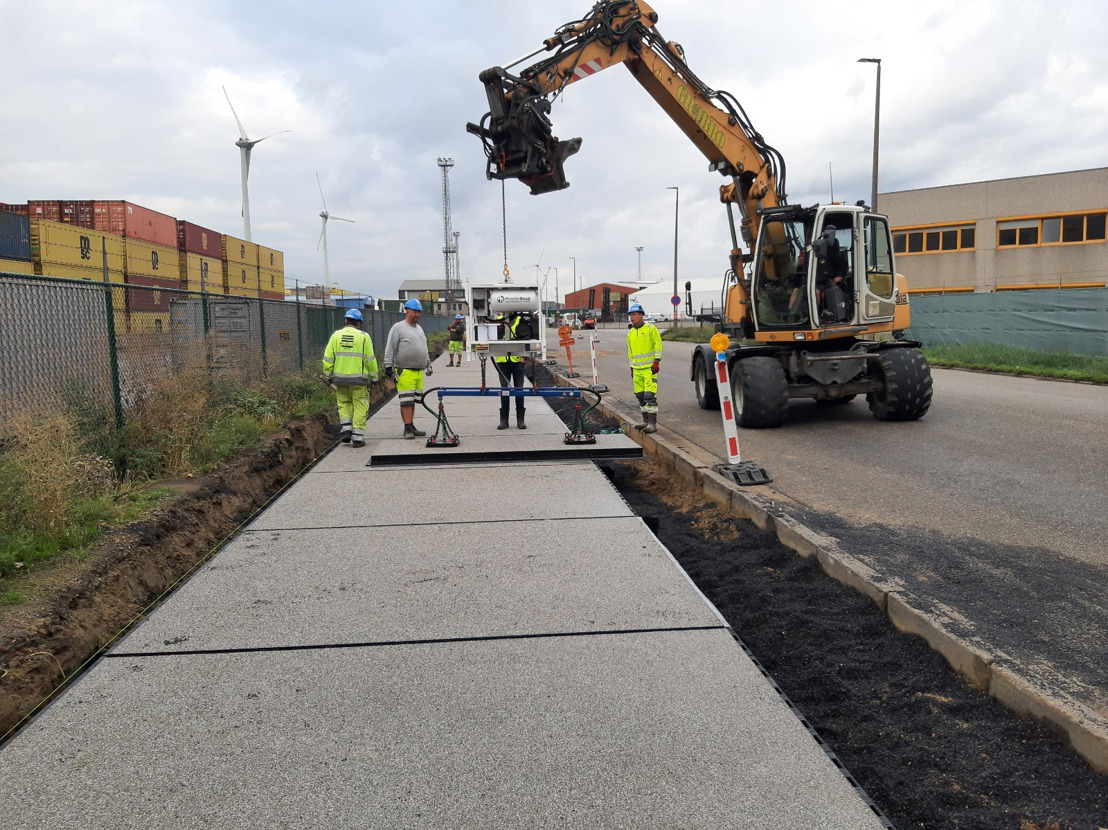 First in Antwerp port area: circular cycle path
Recycled plastics make cycling infrastructure more sustainable
A new 800-metre-long cycle path on the Right Bank in the Antwerp port area is a breakthrough in circularity. In addition to benefits in terms of water absorption and resistance, the reuse of recycled plastics will also reduce CO₂ emissions. The two innovative techniques used are a first in Belgium and contribute to the Port of Antwerp-Bruges' ambition to accelerate the transition to a circular economy.
Circular cycle path
The transition to a circular economy is part of the Port of Antwerp-Bruges' ambition to be a climate-neutral port by 2050. Part of this involves closing circuits so that residual flows are given a new lease of life, being reused or recycled. The new cycle path on Zomerweg on the Right Bank is 800 metres long in total and consists of two sections with several innovative applications of reused and recycled plastics.
Recycling plastic pellets
The first part of the cycle path, developed by the Dutch company PlasticRoad BV, consists of elements made entirely of recycled plastics. The 75 metres of cycle path is equivalent to recycling about two million plastic coffee cups. Compared to a traditional cycle path with asphalt, this results in a 72% reduction in CO₂ emissions. Thanks to a buffer capacity of 300 litres/m² of water, the water is infiltrated at a delayed rate and peak run-off can be smoothed and spread out, improving water management.
The rest of the cycle path consists of a mixture of asphalt and plastic waste, developed by the Scottish company MacRebur. The plastic is crushed into small pellets, which replace 6% of bitumen, a major component of asphalt. This reduces the need for fossil fuels and reduces CO₂ emissions. During production, the plastic is melted into a sticky substance, leaving no microplastics behind. This stretch of cycle path is equivalent to reusing 650,000 plastic bottles. The mix also improves the resistance to deformation and increases the stiffness of the asphalt, making it more suitable for heavy loads.
Sustainable cycling mobility
These innovative techniques, as part of improving the cycling infrastructure and making it more sustainable, will soon be further rolled out in the port area. Port of Antwerp-Bruges has been working for several years on solutions to improve mobility in and around the port. The bicycle has an important role in commuter traffic. There is an extensive network of more than 200 km of cycle paths in the Antwerp port area. To further increase the number of cyclists, every business must have safe and convenient access. Last year, Port of Antwerp-Bruges announced that it is investing more than 40 million over the next 10 years to further improve cycling infrastructure in the port area.
Rob Smeets, COO Port of Antwerp-Bruges: "As a world port, we want to play a pioneering role in the transition to a circular and climate-neutral economy. Collaboration with innovative players such as PlasticRoad and MacRebur is key to this. By opening up the port to technological firsts like this circular cycle path, we can accelerate this change."
Annick De Ridder, Vice-Mayor of the City of Antwerp and President of the board of directors of Port of Antwerp-Bruges: "We would like to be the first world port to reconcile the economy, man and climate. The development of a sustainable road and cycling infrastructure and the improvement of mobility and accessibility are some important parts of this. These techniques will help us to make the right choices in terms of recycling and circularity and to combine both ambitions."