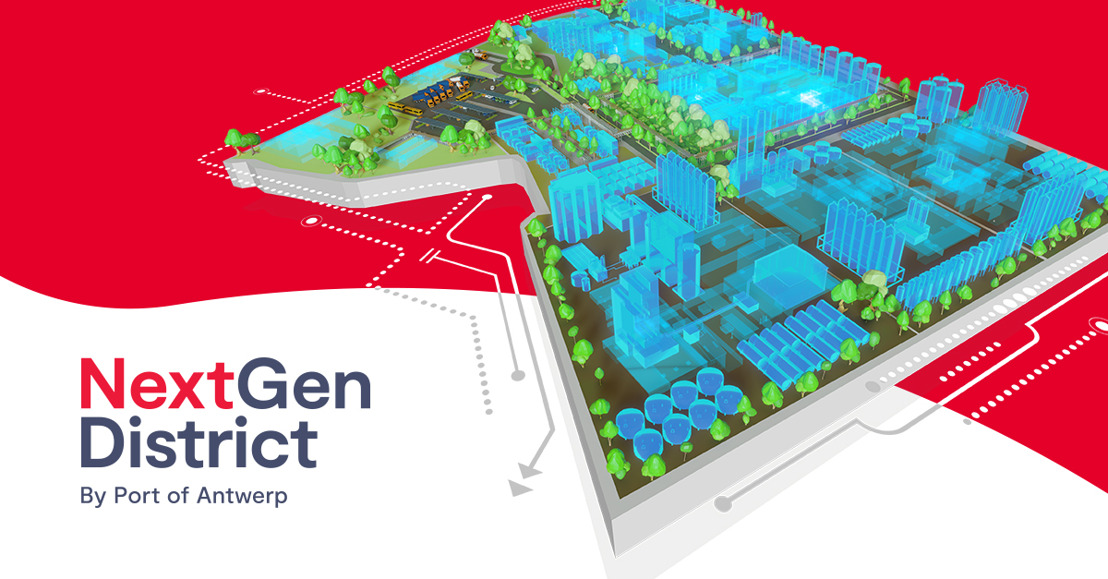 First companies for NextGen District in Port of Antwerp sign agreement
Triple Helix and Bolder Industries are first concessionaires
This week saw the official signing of the first concessionaires for the NextGen District in the heart of the port of Antwerp. The commitment of two pioneers, Triple Helix and Bolder Industries, is an important milestone in securing this future circular economy hotspot. Together with innovative game changers, this cluster of circular companies aims to contribute to the transition to a climate-neutral society.
Hotspot for the circular economy
NextGen District will be the future circular economy hotspot in the port of Antwerp, on the former 88 hectares of General Motors. Port of Antwerp consciously chose to set aside this large area close to Europe's largest chemical cluster for the circular economy. Innovative players in the circular process and manufacturing industry will give end-of-life products a second or third life, explore circular carbon solutions and carry out experiments with renewable energy. In order to attract as many national and international pioneers in the field of circularity as possible, a market survey was organised in October 2020 and June 2021.
Game changers Triple Helix and Bolder Industries
The two companies that signed first are both real game changers. The Antwerp-based company Triple Helix is set to build a factory to convert polyurethane foam from, among others, discarded mattresses, insulation panels and car seats, along with used PET from the retail and food industries, into polyols. These pure chemicals can then be reused, for example in the production of new polyurethane products. The factory will be fully circular and self-sufficient in terms of energy.
Bolder Industries, the pioneer of advanced sustainable chemical manufacturing sourced from end-of-life tires, delivers dramatic environmental savings to the global rubber and plastics industry and their customers. The company's proprietary material science process repurposes the chemicals in end-of-life tires to create BolderBlack® and BolderOil™ for rubber, plastic, and petrochemicals supply chains and their new product outputs. In this recovery process, 98% of the tire's materials are utilized and 75% of the solids and liquids make their way back into new tires, manufactured rubber goods, and plastics.
The total investment value of these two new players amounts to approx. 100 million euros and will generate at least 70 new jobs. After applying for the necessary permits, the objective is to be operational by 2023-2024.
Further implementation
In the meantime, talks with other potential candidates are still in full swing. The projects are judged on feasibility, future orientation, innovative value, climate impact and adaptability. More news on this will follow in the course of 2022.
Jacques Vandermeiren, CEO Port of Antwerp: "The signing of these first two concessionaires represents a milestone for NextGen District and for Port of Antwerp. Several teams within our organisation have pulled out all the stops in recent months to achieve this milestone. With this, we are taking another important step forward in our pioneering role in the context of the climate transition. I want to thank both companies for being bold enough to take this leap of faith and I hope other gamechangers will follow."
Steven Peleman, CEO Triple Helix: "To drastically reduce emissions and waste pollution, we want to show the principle of material reincarnation to the world. In our plant at NextGen District, we want to recover polyurethane foams at the end of their life and transform them into their main components to be used again in new products. This is innovative and challenging, but with Port of Antwerp, BlueChem and our industrial and knowledge partners, we are ready to fight this battle. Not words but deeds!"
Tony Wibbeler, CEO Bolder Industries: "Since 2015, we have delivered material solutions that are now in thousands of rubber, plastics, and petrochemical products globally and with some of the world's most recognized brands. We're very proud to join the Port of Antwerp NextGen District, which is strategically situated, allowing Bolder Industries to better serve our global customers and make a meaningful contribution to the circular economy."
Annick De Ridder, Vice-Mayor city of Antwerp & President Port of Antwerp: "These new players and the investment and jobs they generate are very good news for the sustainable growth of our port. In the NextGen District these pioneers will be given every opportunity to innovate and contribute to the strengthening, synergy and diversification of the port platform. With this cluster of circular companies at a prime logistical location, we can accelerate the transition to a climate-neutral society."
Claire Tillekaerts, CEO Flanders Investment & Trade Agency: "Even in Covid times, Flanders remains an attractive destination for new foreign investors. The synergy between the central location of our region and the logistical assets of Port of Antwerp, sharpened by a hands-on policy of the Flemish government committed to circular economy forms a very attractive framework for innovative companies, with mutually complementary effects. I am therefore very pleased to welcome Bolder Industries as a new ecosystem-strengthening partner in Flanders."