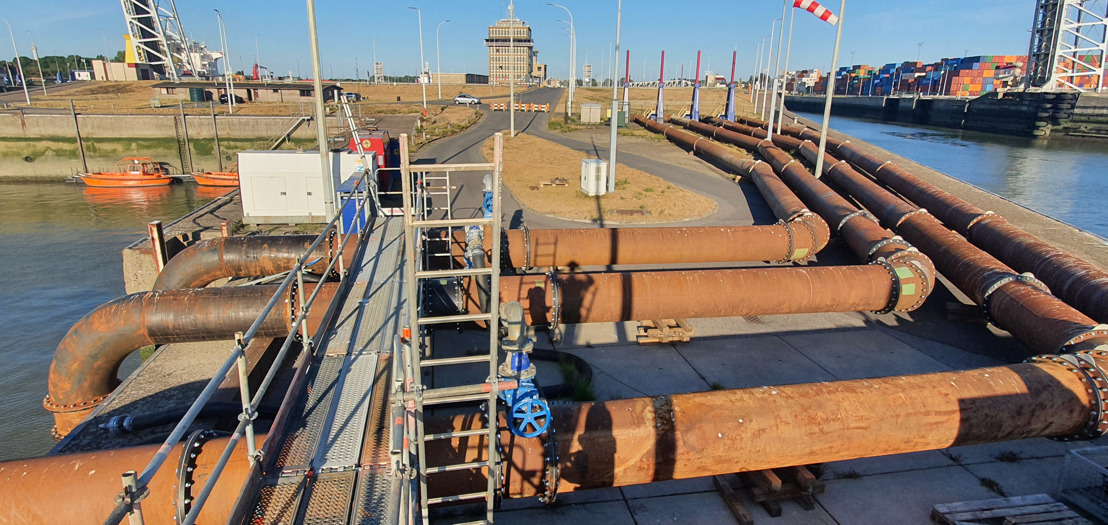 De Vlaamse Waterweg and Port of Antwerp-Bruges maintain the water level in the docks and the Albert Canal with a temporary pump installation
The Albert Canal is a lifeline for this country. Not only is it an important shipping route from the port of Antwerp to the hinterland along which many companies and industries are located, it is also the source for 40% of the drinking water in Flanders. Normally, the Meuse provides the supply of water in the Albert Canal. However, due to the ongoing drought in Flanders, the water level of the Meuse is currently at an all-time low. And this in turn means that the Albert Canal is also currently experiencing low water levels. De Vlaamse Waterweg is tackling this problem by using water sparingly and working as efficiently as possible, for example by having ships pass through the locks in groups. Currently, however, it is so dry that these measures are not sufficient. Therefore, in addition to the fixed pump installations at the lock complexes on the Albert Canal in Olen, Ham, Hasselt and Diepenbeek, De Vlaamse Waterweg placed additional mobile pumps at the Wijnegem and Genk locks that pump water back to the upstream part of the canal.
At the other end of the Albert Canal is the port of Antwerp. Unfortunately, those docks are not an inexhaustible source of water with which to fill the Albert Canal's shortage. This is because it is also essential for the port of Antwerp that sufficient water continues to flow into the docks and the Albert Canal so that shipping can continue to function and industry can continue to operate.
For this reason, De Vlaamse Waterweg and Port of Antwerp-Bruges decided to install four temporary pumps at the Berendrecht lock as well, which will pump additional water across from the Scheldt to the docks if necessary. Together, these pumps can pump 4 m³ of Scheldt water into the docks per second. When converted, this is about one Olympic swimming pool every 11 minutes.
How does such an installation work? Under normal circumstances, we replenish the water level in the docks by releasing water from the Scheldt into the docks through the drainage channels along the lock complex. Because dock water is being pumped back into the Albert Canal during this period of drought, this method is no longer sufficient and additional solutions must be sought. After Port of Antwerp-Bruges conducted successful tests with mobile pumps in the spring of 2021, De Vlaamse Waterweg installed a temporary pumping facility at the Berendrecht lock this summer. As of the beginning of this week, this facility is now actually in operation. We expect that this installation will be needed at least until the end of September 2022.
We are therefore taking some practical actions to make the port resilient to climate change. After all, water is vital to a port.